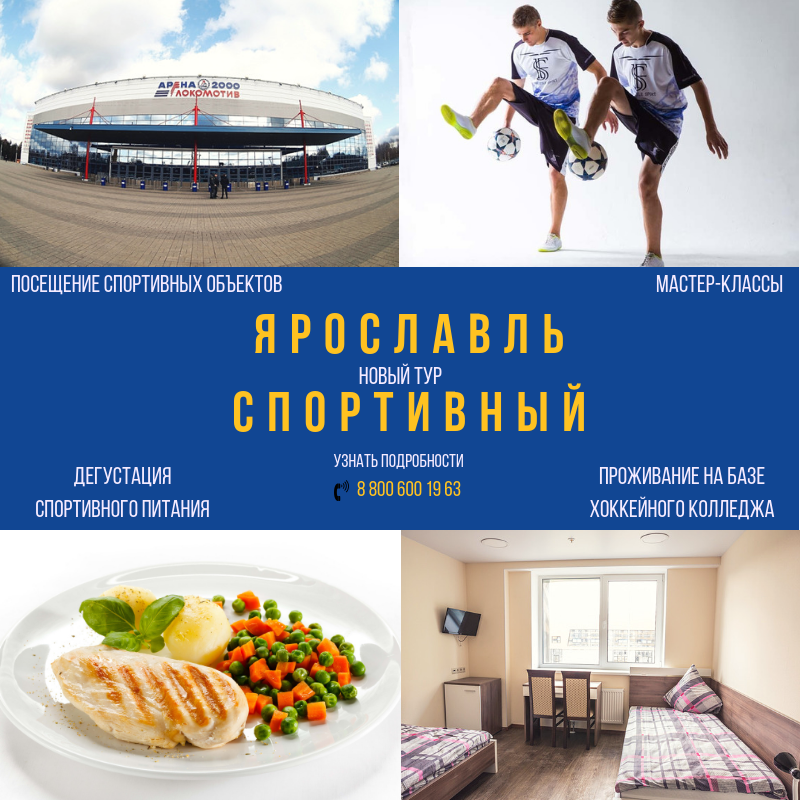 To book an excursion call +7 4852 231721
The excursion is devoted to Yaroslavl, one of the most sports-oriented cities in Russia. Numerous victories of Yaroslavl sportsmen in Russian and international contests tell the stories best.
The city has more than 400 organizations and companies that are engaged in sports, health and fitness activities. Yaroslavl has many sports facilities: outdoor stadiums Slavneft, Shinnik and some others; indoor stadiums Avtodiesel, Avtomobilist, ice-hockey Arena 2000 Lokomotov, Lazurny, sports complex Atlant; gyms and fitness halls, swimming pools, ski lodges, outdoor and indoor skating rinks and tennis courts, shooting ranges. Every year new sports facilities are organized in the city.
2-day program includes:
Visiting sports facilities
Master-classes in sports skills
Meetings with famous and talented sportsmen of Yaroslavl
Tastings of sports nutrition
Visiting sports event in the evening
Accommodation at Multifunctional Complex Hockey Club Lokomotiv
Minimum group size 15 people. Program cost for 1 person from 4000 rubles.